China's new green hydrogen development plan treads carefully, but experts expect a boom after 2025.
The unveiling in late March by China's top planning body of a hydrogen development plan that runs through 2035 and lays out initial targets for a green hydrogen roll-out is largely seen as lowballing what could eventually be a major component of the country's 2060 net-zero drive.
The goals set out in the plan see China producing 100,000–200,000 metric tonnes of green hydrogen per annum along with a total of 50,000 hydrogen fuel cell vehicles by 2025. Green hydrogen, also called renewable hydrogen, is hydrogen made from the solar or wind-powered electrolysis of water. Most of the hydrogen in use today is made from natural gas or coal.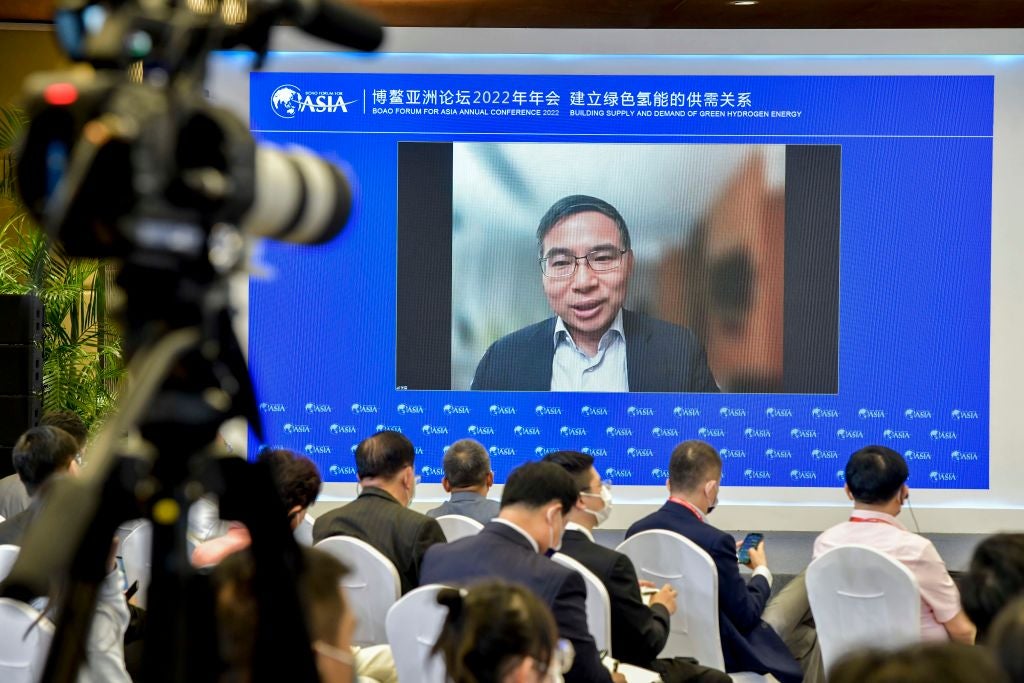 Analysts see this conservative, cautious approach as a short-term demonstration phase and a way to prevent over-investment before there is a mature market for the product. Planners do not necessarily want to see a repeat of past overheated wind and solar roll-outs that created a series of knock-on, problematic impacts such as projects built just to meet policy quotas but not producing energy. Those issues led to curtailment and took years to resolve.
"The plan underwhelmed us," Martin Tengler, a Tokyo-based lead hydrogen analyst for BloombergNEF, told Energy Monitor. "It is not to say necessarily that it is a bad strategy, but it was a bit of a surprise in that we expect China will hit the target they set for green hydrogen this year with the projects they already have in the pipeline. If they don't hit it this year, if projects get delayed for some reason, they will surely hit it next year."
Currently, China leads the world in hydrogen production – most of that created through coal-fired power – at 33 million metric tonnes (t) per year. With only around 27,000t of green hydrogen currently produced in China, the 2025 target is a far cry from what could eventually be a much greater level of production.
Demonstration phase
Real commercialisation and deployment is expected to rise rapidly during the 15th five-year plan period starting from 2026.
"After 2025, we expect that people [will] have more understanding of the technology, safety issues and the economics, and green hydrogen will speed up," Yuki Yu, founder of Energy Iceberg, a consultancy focusing on China's energy industry, told Energy Monitor from Beijing.
"It is already developing at a high pace," she added. That currently includes over 120 projects, with around a dozen of those at commercial scale, she said. Most of them are expected to be completed by 2025, if not before.
"We are very bullish about the green hydrogen market in China; there is no doubt that it will [eventually] be the largest in the world," Yu says. "You have such a large renewable market […] it would be a shame not to use green hydrogen as a vehicle in decarbonisation."
Jane Nakano, a senior fellow in energy security and climate at the Center for Strategic and International Studies in Washington, DC, also finds the targets modest, partly because of a government focus on greater renewable energy roll-out for electricity generation.
Nevertheless, pushing for renewable hydrogen at the same time could complicate that effort, particularly in the current uncertain economic environment, she says. The government is concerned that diverting attention away from deeper integration of renewable energy with the national grids in favour of other production like hydrogen could slow both.
"In light of the economic growth outlook, which is modest in comparison to the country's past performance, the Chinese government may be deferring more robust buildout of green hydrogen production capacity that would require additional investments," Nakano suggests. With deepening the renewables roll-out currently the primary goal, large investments in green hydrogen will need to wait until the next planning period.
Within China, some provincial targets actually surpass the national target. For example, Inner Monoglia – home to much of China's wind power – wants to produce around 480,000t of green hydrogen per year by 2025, according to Isadora Wang, a senior advisor on China at German think tank Agora Energiewende in Beijing.
Wang also warned against reading too much into these initial demonstration plans to determine what the actual outcomes might be over the next five years. "It is the first policy that sets the tone for hydrogen development," she says.
Future growth
The challenge now lies in scaling up green hydrogen production and its downstream application, especially in carbon-intensive industrial sectors like steel and chemicals, Wang says.
Both Hesteel Group and steel producer Baowu have included hydrogen direct reduced iron (H2-DRI) in their decarbonisation strategies and have started the construction of plants, according to Wang. At the first stage, those DRI plants will run on synthetic gases from coke ovens but eventually will demand huge amounts of green hydrogen.
"Looking forward to where growth can go – the plan emphasises developing diverse end uses for hydrogen, including transport, energy storage, power and heat for distributed energy projects, and feedstock substitution and heating for industrial applications," says Melissa Tan, senior communications manager at Asia S&P Global Commodity Insights in Singapore.
Yu also expects that, besides the iron and steel industry, petrochemicals, paper-making and cement production in China will see increasing pressure to decarbonise with green hydrogen as they face dwindling technological options to reduce their carbon footprints. Carbon capture, use and storage projects have also been slow to roll out.
As renewables dramatically scale up, and battery storage bottlenecks emerge, green hydrogen for long-term energy storage will also be increasingly attractive.
"By 2030, China will have 1TW of renewable production and that requires a significant increase in energy storage capacity – green hydrogen seems the most promising for seasonal, long-term energy storage," Yu says.
By that time, China hopes to have solved its initial energy market reform hurdles that have slowed renewables' uptake into the country's grids, creating more room for green hydrogen production.
China's position as the world's leading producer of electrolysers could also give it an advantage in advancing green hydrogen both domestically and globally, BloombergNEF's Tengler says, adding that was one reason he was surprised the targets were so minimal.
"From our understanding, the targets in the next [15th] five-year plan could be increased significantly," he continues. "I would have expected something more ambitious [this time round], not necessarily because of altruistic net-zero targets but because China could be a global supplier of electrolysers. It seems to me this target is not making companies do more. Is it making companies do less? I don't know."
Source: By Michael Standaert | energymonitor.ai