The fact there's still no sign of flying cars outside my house, a couple of decades into the 21st century, is crushingly disappointing, but at least car boffins are sort of heading in that general direction by developing vehicles fuelled by the same stuff that powers rocket ships: hydrogen. (And, in a more Back to the Future II fashion, by effectively creating cars with their own power plants on board, just like the Mr Fusion on the DeLorean)
Hydrogen is like Samuel L. Jackson – seemingly everywhere, and in everything, no matter where you turn. This abundance makes it perfect as an alternate fuel source to fossil fuels, which are not doing the planet any huge favours at the moment.
In 1966, General Motors' Chevrolet Electrovan was the first hydrogen-powered passenger car to appear in the world, the bulky van still able to hit a a top speed of 112km/h and travel a quite decent range of 200km.
Since then, there have been countless prototypes and demonstration models, with only a few to actually hit the road in limited quantities, including the Mercedes-Benz F-Cell hydrogen fuel cell electric vehicle (FCEV), General Motors HydroGen4, and Hyundai ix35.
By the end of 2020, only 27,500 FCEVs have been sold since sales of them began – most of those being in South Korea and the USA – with that low figure blamed on the fact hydrogen refuelling infrastructure is sorely lacking all over the globe.
Still, that hasn't deterred some car companies to continue researching and developing hydrogen-powered cars – which use an onboard power station to convert hydrogen into electricity, which then powers electric motors. Australia already has a couple of models available for lease, but not to the general public yet – more on that in a moment – and there will be a few more models available soon (and by "soon", we mean "the next few years").
The two big selling points, of course, are that hydrogen cars are emissions-free with only water coming out of the tailpipe, and the fact that they can refuel in mere minutes – a significant improvement on the length it takes to recharge EVs (anywhere from 30 minutes to 24 hours).
Hyundai Nexo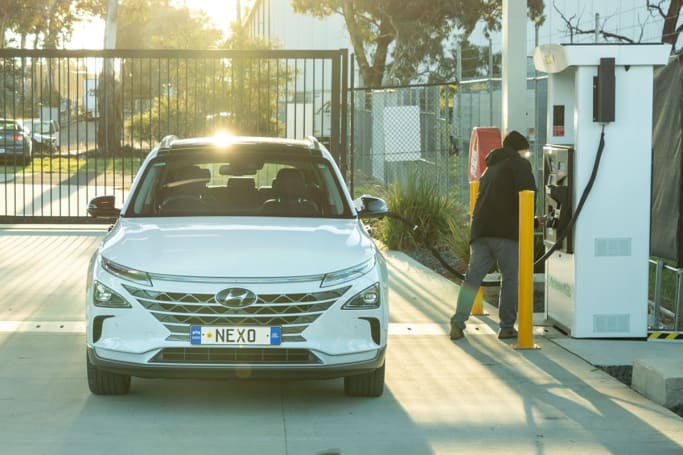 Price: TBC
Currently only available for lease in Australia – the ACT Government has already snapped up 20 as fleet cars – the Hyundai Nexo is the very first FCEV to be made available to drive on Australian roads, even though there are not a lot of places where you can refuel it (there's a hydrogen refuelling station in the ACT, as well as a station at Hyundai HQ in Sydney).
There's no retail price since it's not available for private sale yet, but in Korea, where it's been available since 2018, it sells for the equivalent of $AU84,000.
Onboard hydrogen gas storage can handle 156.5 litres, which offers over 660km of range.
Toyota Mirai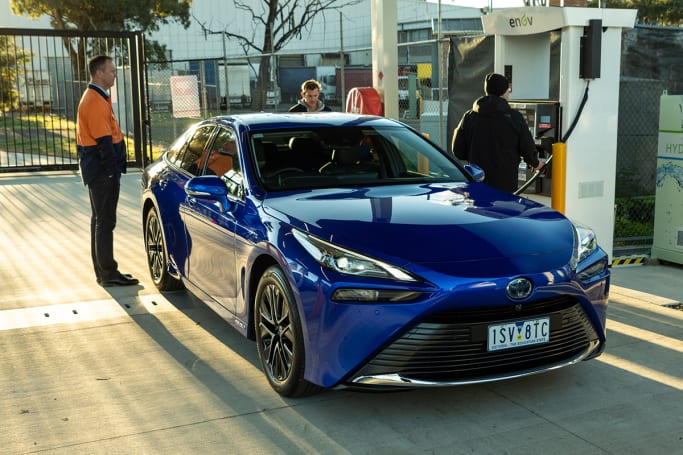 Price: $63,000 for a three-year lease period
When it comes to hydrogen fuel cell cars, Australia currency has only two models vying for supremacy: the Nexo, and Toyota's second-generation Mirai, with 20 of the former being leased to the Victorian Government as part of a trial.
To refuel the Mirai, Toyota has built a Hydrogen Centre that's located in Altona in Melbourne's West, with plans for more hydrogen stations to be built across Australia (the three-year lease for the Mirai also includes refuelling costs).
Like Hyundai, Toyota is hoping to reach a point where the infrastructure catches up and it can sell its hydrogen cars in Australia, with the Mirai coming with some impressive specs (outputs of 134kW/300Nm, 141 litres of onboard hydrogen gas storage and a claimed range of 650km).
H2X Warrego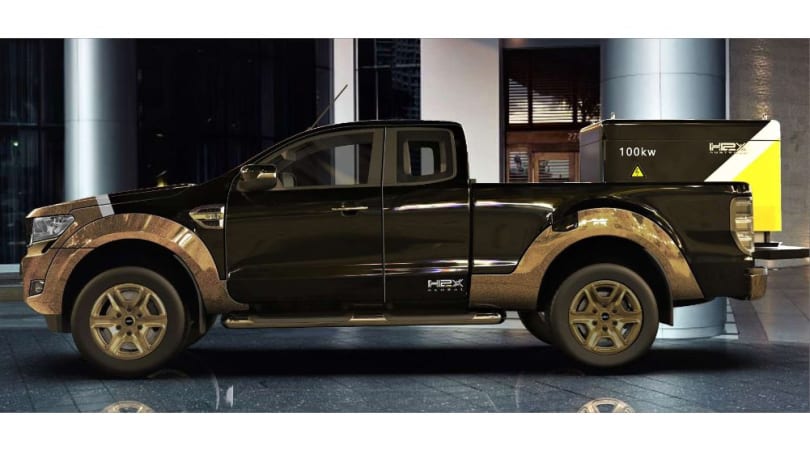 Price: Starting from $189,000, plus on-road costs
Some home country pride should be reserved for the new hydrogen-powered Warrego ute, which come from Australian hydrogen FCEV start-up H2X Global.
As pricey as the ute may be ($189,000 for the Warrego 66, $235,000 for the Warrego 90, and $250,000 for the Warrego 90 XR, all plus on-road costs), it seems to be a hit: global orders have topped 250, which amounts to around $62.5 million in sales.
As for how much hydrogen the ute carries, there are two options: a 6.2kg onboard tank offering 500km of range, or a bigger 9.3kg tank offering 750km of range.
Deliveries are due to begin in April 2022.
Ineos Grenadier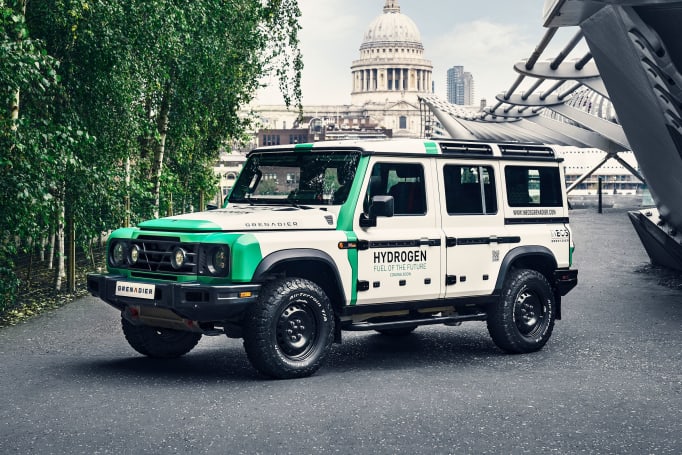 Price: TBC
Britain's Ineos Automotive signed a deal with Hyundai in 2020 to co-develop hydrogen fuel cell technologies – investment has hit a whopping $AU3.13 billion into hydrogen tech – so it's no massive surprise to learn it will begin experimenting with a hydrogen-powered version of its Grenadier off-road 4×4 before the end of 2022.
Land Rover Defender
Source: Cars Guide.