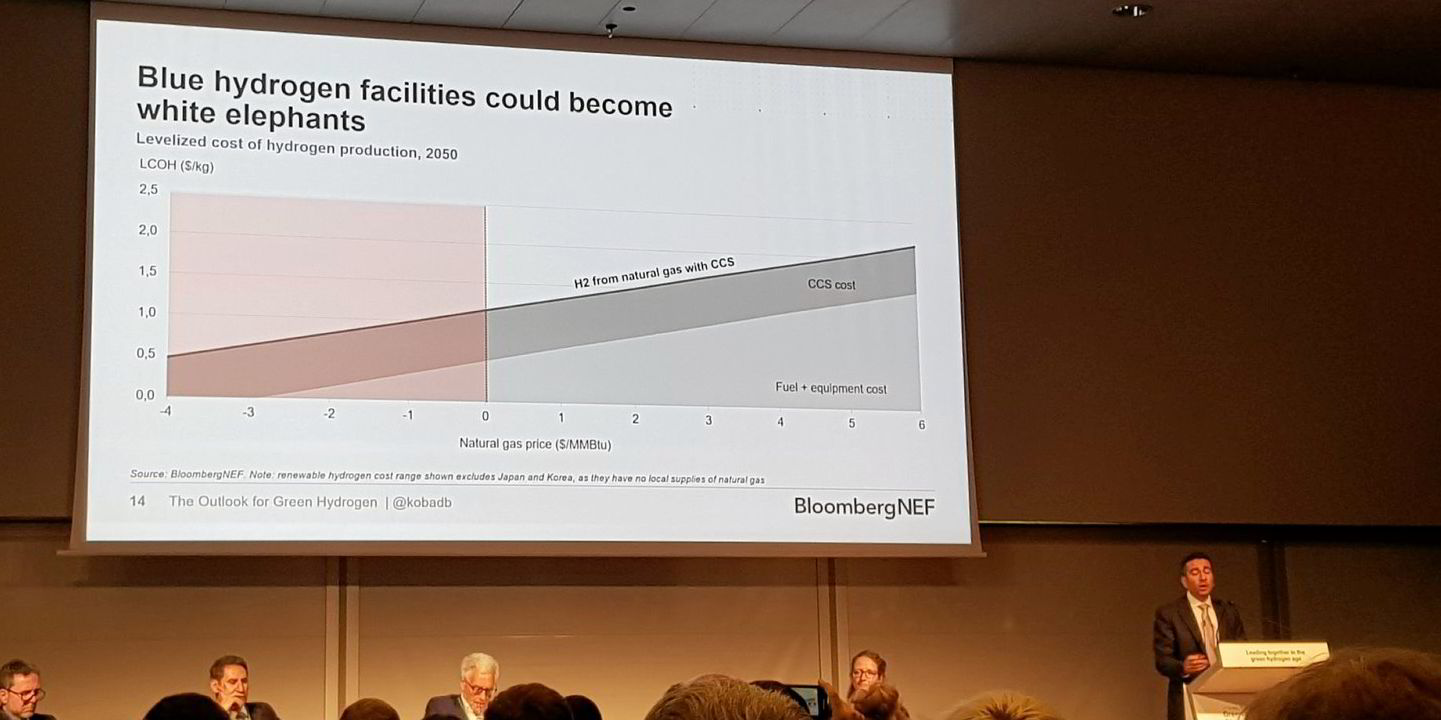 BNEF global head of strategy Kobad Bhavnagri speaking at the Green Hydrogen Global Assembly in Barcelona on Tuesday morning.
Photo: Hydrogen Australia
Tenfold reduction in cost of electrolysers and cheap renewable energy present 'serious problem' for investments in blue hydrogen and will force gas companies to 'think again', explains research house's global head of strategy
An expected tenfold reduction in the cost of hydrogen electrolysers coupled with ever-cheaper renewable energy will mean that green H2 will be cheaper to produce than gas-powered blue worldwide by 2030, according to BloombergNEF global head of strategy, Kobad Bhavnagri.
Hydrogen: hype, hope and the hard truths around its role in the energy transition
Will hydrogen be the skeleton key to unlock a carbon-neutral world? Subscribe to Accelerate Hydrogen, powered by Recharge and Upstream, and get the market insight you need for this rapidly evolving global market.
Renewable hydrogen will "trend towards a benchmark of $2/kg by 2030, and $1/kg by 2050", he told the Green Hydrogen Global Assembly in Barcelona today (Tuesday), adding that by mid-century, blue hydrogen facilities would need to procure natural gas at negative prices to be cost-competitive with
"When it comes to competition with other forms of low-carbon hydrogen, we think that green hydrogen should undercut the price of so-called blue hydrogen in all parts of the world by the year 2030," said Bhavnagri.
"So that's a really significant tipping point. Because it means that a blue hydrogen facility that may be built today could be structurally undercut on cost by a new green hydrogen facility that could be built right next to it by the year 2028 in many parts of the world, at the latest, 2030.
"That tipping point… is a serious problem for potential investments in so-called blue hydrogen. Blue hydrogen assets could essentially become white elephants," Bhavnagri stated.
"So investors in blue hydrogen facilities need to think very hard about this competition, and producers of natural gas that may be hoping for conversion to hydrogen to give their assets continual life really need to think again."
Source: By Leigh Collins | rechargenews.com